Google Analytics is a fantastic tool that provides real-time data on your website traffic. But as anyone who's looked at it knows, the interface is overwhelming and confusing. It can be hard to find the information you need. 
Kristin Hicks of Constant Contact highlights the must-have metrics from Google Analytics:
1. Website Traffic
The first thing you'll see any time you sign into Google Analytics is your basic traffic information in the Reporting dashboard.
This page tells you:
How many total visits people have made to your website;
How many of them are repeat visitors;
How many pages have been visited;
How long people usually stay on your site once they get there; and
How many pages most visitors visit before leaving.
These metrics reveal a basic level how well your website is performing.
No matter what type of website you have, you probably want to receive a lot of traffic and you want it to be from visitors that like your website enough to hang around for a while and even come back later for more. These metrics tell you to what degree that's happening.
2. Demographics
To learn a little more about who your site visitors are, navigate to the Audience section in the left-hand menu. Here you can learn basic demographic information about your visitors, including:
Gender
Age
Other interests their internet browsing reveals
Geographic location
What type of device they visited on (mobile, desktop, or tablet)
These metrics reveal if the audience you're meaning to reach is the one you're actually getting. If it isn't, you can shift your strategy based on the characteristics and interests of the visitors coming to your site.
Knowing which devices people are coming from also helps you determine how important having a mobile website and marketing strategy is (hint: it's probably very important).
3. Traffic Sources
Most of your online marketing efforts are likely devoted to pointing people back to your website. The best way to see if they're working is to track which marketing channels bring new traffic to the website.
The Acquisition section in Google Analytics is where you'll see how visitors found you.
This section gives you an idea of how well your SEO efforts, social media marketing, and email marketing are all paying off.
4. Visitor Behavior
Getting people to your website is just the beginning. You want them to like what they see and stick around once they get there as well.
The Behavior section of Google Analytics lets you know what your visitors are doing once they arrive on your website. You can see which pages they visit the most, how long they tend to spend on them, and which pages consistently lead visitors to click through to other pages.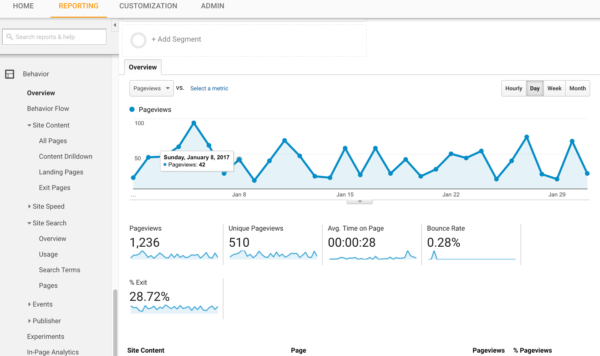 This section also helps you see how specific pages on your website are performing and illuminates which ones could use some work.
If you have a content strategy, the data here can help you understand which topics and content types your visitors respond to the most in order to strengthen your strategy moving forward.
5. Conversion Rates
Finally, most websites should have at least one conversion goal and most will have several.
If you have an online store, the main goal is to get visitors to buy your products. If you do email marketing, one of your goals should be to get people to join your email list. For some pages and blog posts, the goal could be to get people to click through to a different landing page or post.
You can tell Google Analytics what your main conversion goals are for the website, and even how much each goal is worth to you. Then a Conversions section will appear next to Acquisitions and Behavior.
Review this regularly to track, in specific terms, how well your website is meeting your goals.
That's Just the Beginning
Those are the basics every website owner should know to get started, but once you're familiar with Google Analytics you can dig deeper and find even more valuable insights and hidden gems.
The more you use the data the tool makes available, the better you'll be at crafting your website to please your visitors and meet your goals.
Want even more Google Analytics tips? Don't miss our Measuring Your Marketing BizzyWebinar on April 19. Can't make it? Catch it on our YouTube channel anytime after broadcast. 
* * *
Google It
Our Buzz Builders Online Marketing programs will get you found online. And if you're looking at a new website, our Minneapolis Web Design programs create beautiful and functional websites that get results.